The Benefits of Cone Beam CT Imaging for Endodontic Patients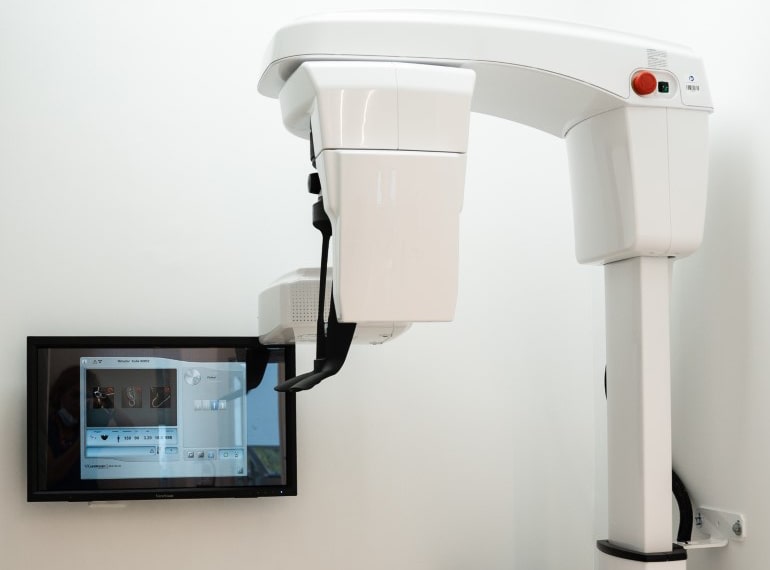 Here's why our Richmond Hill root canal specialist uses the CBCT
Along with the introduction of computed tomography (CT) imaging came a revolutionary technology utilized by many endodontists and dentists today: the cone beam CT scan, or CBCT abbreviated.
The CBCT is essentially a cone-shaped X-ray that is capable of creating detailed images of the jaw, dentition, sinuses, nasal cavity, facial bone and hard tissues - which offers many advantages for oral care practitioners and patients alike.
How cone beam CT scans work
Cone beam CTS technology allows endodontists and medical professionals to develop 3D diagnostic images that are of greater quality and more detailed than the 2D images produced by traditional X-rays. This is why our Richmond Hill endodontic clinic is proud to use the CBCT in daily practices.
Furthermore, cone beam imaging boasts more accuracy than 2D imaging due to its process's ability to minimize scatter radiation. Just one CBCT scan can develop a vast variety of differing views, in addition to simultaneously capturing images of a patient's bone and soft skin tissue.
The CBCT process is entirely safe, non-invasive and pain-free for patients as it produces the lowest dose of radiation necessary to create a high standard of image quality to ensure the most accurate diagnosis.
Technology with a plethora of advantages
Cone beam imaging assists our Richmond Hill endodontist in successfully planning root canal therapy through determining the status of a person's tooth root, and whether (and/ or where) endodontic intervention is required. It even helps him to determine whether a complete extraction may be necessary.
CBCT also helps endodontists and dentists to precisely locate and ensure protection of the critical alveolar nerve before any oral surgeries or endodontic treatments.
What's more, cone beam technology even assists in the identification of other potential causes for concern in the oral cavity - including any potential lesions, cysts or tumors, among other critical visualizations - and also helps our expert endodontist to assess how a patient's mouth is recovering after a surgical procedure.
Want to learn more about CBCT imaging at our endodontic clinic in Richmond Hill?
Our team would be happy to speak with you, or to book you in for your visit with our Dr. Farzad Danesh. Reach out to us today!